General Dentist in Mandarin & Jacksonville
Mandarin Dentistry has been one of Jacksonville's leading Dental Practices for decades.
Let's Make You a Perfect Smile – General Dentistry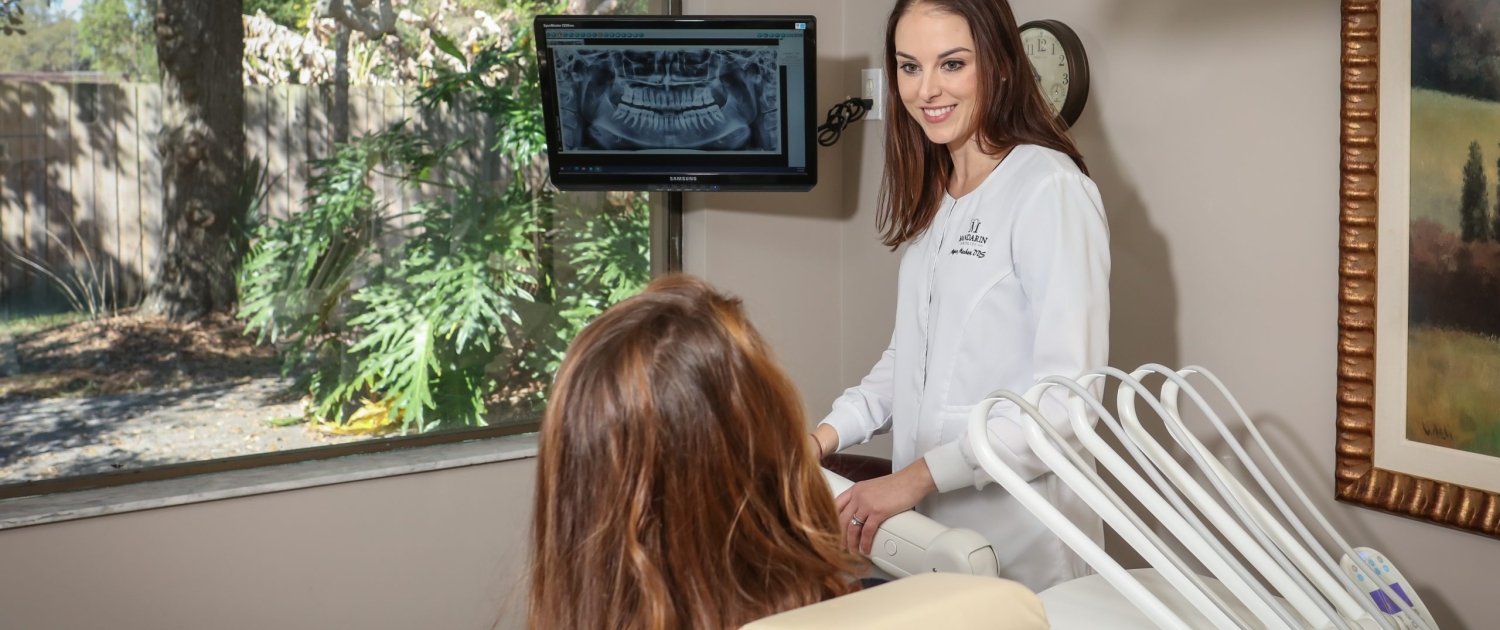 A variety of treatments are included under the umbrella of "general dentistry" aimed at helping patients achieve a beautiful smile that allows them to eat whatever they want. From regular checkups and cleanings to complex smile makeovers, our experienced team at Mandarin Dentistry can perform almost any dental procedure.
Dental Examinations
A comprehensive dental exam at Mandarin Dentistry typically includes:
Examination of diagnostic x-rays: We use this information for the detection of decay, tumors, cysts, and bone loss.
X-rays also help determine tooth and root positions.
Oral cancer screening: We carefully check your face, neck, lips, tongue, throat, tissues, and gums for any signs of oral cancer.
Gum disease evaluation: We check your gums and the bone around your teeth for any signs of periodontal disease.
Examination of tooth decay: All tooth surfaces are checked for decay with special dental instruments.
Examination of existing restorations: We review fillings, crowns, etc.
Dental Extractions
Mandarin Dentistry performs tooth extractions in a safe and healthy environment. Tooth removal or dental extraction is when the tooth is removed from the mouth. There are several reasons to remove teeth. Some of these involve decay, periodontal disease or bone loss, insufficient spacing or crowding, pre-orthodontic treatment, partial eruption with an inability to keep clean, tooth fracture, and bone or tooth pathology.
The Benefits of Seeing A Locally-Owned & Operated Dental Practice
Mandarin Dentistry is locally-owned, making for a pleasant patient experience and a sense of security knowing that we will be here for you for years to come. Corporate chains can't offer that peace of mind.
The American Dental Association (ADA) recommends dental visits every six months.
People with a high risk of dental disease who should see their dentist more often include women during pregnancy, smokers, diabetics, and those with low immunity to bacterial infections.
Here are the reasons why we believe dental visits are important:
During a routine check-up, Mandarin Dentistry will:
Early Detection of Dental Problems We can detect issues you may be unaware of. Many dental issues – including gum disease, cavities, and oral cancer – don't cause pain or become visible until they are in danger and more advanced stages.
Examine your gums. More than 50% of Americans over the age of 30 suffer from gum disease, according to the Centers for Disease Control and Prevention. Our gums give clues about our overall health.
Check for cavities. You may have a cavity without realizing it. Detecting cavities early enables easier treatment and can often save teeth that would otherwise be lost if decay progresses. Once decay works its way into tooth enamel, it can infect the soft pulp inside the tooth, and infection can spread to the root and into the bloodstream. Extensive decay can lead to a serious bacterial infection. Healthy teeth enable you to eat the types of food you need while reducing the levels of harmful bacteria you swallow.
Check for plaque and tartar accumulation. If plaque is allowed to build up, it forms tartar, which is impossible to remove by brushing and flossing and can lead to cavities and gum disease. Your dental hygienist or dentist will use special tools to thoroughly clean hard-to-reach areas of your mouth.
Examine your neck, throat, tongue, and face. Looking at these areas enables your dentist to spot signs of potential problems such as cancer. More than 100 cases of oral cancer are diagnosed daily in the U.S. Early treatment significantly increases the chances of a successful outcome, but most oral cancers are not discovered until later deadlier stages.
General Dentistry – FREE Consultation
A one-on-one no-charge consultation with one of our knowledgeable, compassionate dentists is always available.
Improve your smile now. Schedule your dental exam or consultation today!